You are here:
Registered Interior Designer®
Tricia Findlay
Tricia Carroll Designs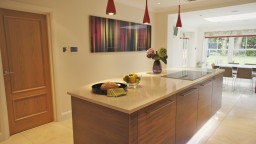 Profile
Tricia Carroll Designs is small independent design studio located on the Surrey/ Hampshire border. It was founded in 2004 by Tricia Findlay who gained a distinction in her Interior Design Diploma from Rhodec International / London Metropolitan University. Focused on providing private clients and independent property developers with design solutions, Tricia has a simple mantra of detail, detail, detail!" which she combines with her natural artistic talent and concern for the individual needs of her clients. Tricia started her creative career at age sixteen, with her artwork being exhibited at the Tate Gallery London, followed by attending the Norwich School of Art. After retraining as a Chartered Company Secretary, she was able to put her natural attention to detail to work on the contractual side of commercial construction projects. This couldn' t satisfy her love of light, colour and texture, which she now brings to bear to help clients create the beautiful and functional spaces they desire. While Tricia' s natural style is a clean contemporary look as inspired by the likes of Corbusier and Mies van der Rohe, she is just as happy working with more traditional spaces. Recent projects have included the living and dining room of a 17th century cottage and a period townhouse. Her last show home was a much more contemporary glass fronted lakeside house.