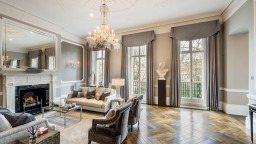 Profile
Weldon's fine parquetry, marquetry, antique and boarded floors are a defining feature of elegant private residences, historic public buildings and Royal Palaces across the British Isles, Europe and the Middle East.
The singular skill and attention to detail of our craftsmen is matched only by the breadth and scale of the projects undertaken that have earned the company its distinguished reputation. A Weldon floor reflects both the quality of the finest natural materials, sourced from carefully selected woodlands, and the precision, care and experience that goes into preparing and laying each piece. Leading-edge design and quality control technology ensure that even the most complex, bespoke designs are accurately, faithfully and consistently realised.
The design process with our partners in the interior design, architecture and construction sectors is collaborative, and workshop visits to our Nottinghamshire factory are encouraged. Every detail is considered, from preparation of the sub-floor to teaching households how to look after their floors, thus ensuring the enduring beauty of the floors on your projects. The service our partners receive is as distinguished as the floors you and your clients commission.