You are here:
CPD Provider Directory
Wiesner-Hager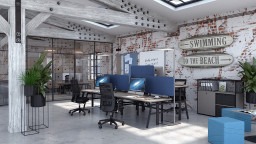 Contact
Michael Lambrianos

Tel:

0207 493 627

Address:

104-110 Goswell Road

EC1V 7DH

London
CPD course title:
Think New Work – How to Create the Workplace of the Future
CPD Fees: £0.00

CPD Duration: 1 hour

CPD Venue: 104-110 Goswell Road, 4th Floor, London, EC1V 7DH

Regions: England, Wales, Scotland and Northern Ireland
CPD overview
The office environment has already been under strong pressure to change for quite some time. Digitisation has brought about new, highly mobile forms of work; companies are responding to the needs and expectations of new generations of workers with flexible work models, flat organisational structures and offices designed in a cosy living room style.
In addition, globalised competition in many industries has caused enormous pressure on boosting efficiency. Communication requirements have increased sharply as a result of all these changes. We work and communicate between the poles of productivity and emotion – and are increasingly moving further away from conventional desk-bound thinking. This is leading to the emergence of many different office areas such as co-working spaces, silent rooms, highly technological communication spaces or creative spaces.
Activity-based working is the order of the day: Companies provide their employees with differentiated, changing work environments which offer a supportive setting depending on the specific task. In design terms, anything goes – providing that employees like it – and as long as it is suited to the company.
By coming up with our ideas for this New Work approach, we are creating an innovative framework for different tasks in the working and living environment of the office. Given the right office architecture, our experience shows that staff motivation and commitment increases over the long term – and that as a rule, motivation also boosts productivity.
In this CPD, Interior Designers will learn:
How future offices need to provide employees with differentiated, versatile work environments that offer supportive settings for a variety of activities.
Why rigid spatial structures are disappearing.
Why space needs to be designed around the tasks that are to be performed.
To understand that 'Activity Based Working' is the order of the day.
To understand that innovative furnishing solutions now mean that efficiency and well-being are no longer diametrically opposed but the result of creative planning concepts.
To understand that bespoke workplace designs in an efficiently used, highly flexible environment can motivate better performance and increase productivity for all companies.
This CPD can be presented remotely at your premises or at the Wiesner-Hager showroom in London.
Please call or email Michael to find out how to book this seminar, or to find out if when the next event is scheduled for this presentation. Please note there is no minimum capacity to book this presentation and requests from individuals will be welcomed. 
0207 493 627 / m.lambrianos@wiesner-hager.com
---