You are here:
Registered Interior Designer®
Ebba Thott
Sigmar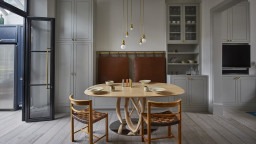 Profile
Swede Ebba Thott, interior Designer & Nina Hertig, a Danish furniture expert together founded Sigmar in 2005 on the London's King's Road in London.
Together this creative duo offer a full service interior design as well as an estab- lished shop specializing in 20th century design and distribution for small niche manufacturers. Unifying it is a love and knowledge of craft and design.
We love everything that reminds us that we are all unique humans. We believe vision and skill is needed to create something with a soul, something which makes our life more comfortable and fun.
Our intention, is to create a higher quality of life by letting function, beauty and craft come together.
We believe that if, according to our abilities, we can do something to make oth- ers a little happier. We want to bring back the idea of poetry in interiors, focus- ing on the beauty of quality as well as the design.
The client and the architecture is always a prominent influence. At Sigmar we take great pride in admitting that. As designers we are "trained eyes" and the strongest influences, e.g. Nature, history, film, art etc does influ- ence the style to some extent, but the personality of the client and their needs, is essentially that we are trying to visualize and meet. It is after all their personal space that we are helping to refine
In the Spring of 2011, Sigmar also launched the "Damo" Paint collection. A high quality, ecologically sound range of interior, exterior paints that has been carefully considered and developed to work very well together across the board. We can also offer a bespoke color service to our interior clients.
Most recent awards & notifications:
House & Gardens 100 Leading Designers
AD Architectural Digest Germany Top 200 list (issue out in June 2019)
Country & Townhouse - 50 Top Designers 2019
Elle Decoration Top Architects & Interior Designers
Wallpaper Design Awards - Best domestic design 2018
Website: www.sigmarlondon.com