You are here:
British Institute of Interior Design Homepage
Introducing

Our Collective
Take a look at our members and their work
Every member featured here has met the rigorous selection process to become a BIID Registered Interior Designer®.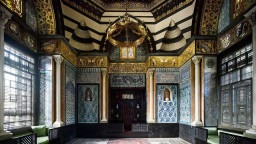 THE MAKING OF THE ARAB HALL AT LEIGHTON HOUSE
2nd December 2021, 7.00pm - 8.00pm
Learn about the influences, conception, and construction of Frederick Leightons magnificent Arab Hall. The Arab Hall, with its beautiful tiles, wooden lattices, gold mosaics and soaring dome captures the imagination of visitors today, just as it did when it was first revealed to the public in 1881. Join Dr Melanie Gibson as she revisits some of the places he travelled to and investigates how the ideas and objects he collected were combined and displayed in this spectacular space.
Useful resources
Guides and Information to help you run your interior design business
We work with our members, partners and a network of experts and specialists to provide regular resources to enable you to improve your professional knowledge, help you understand the important new legal and regulatory changes and help you run your business better.
Why Join the BIID?
Gilly Craft, Koubou Interiors
Former BIID president talks about why she joined and how it has benefited her.