You are here:
Registered Interior Designer®
Huei-Ju Wu
Kelly Hoppen Interiors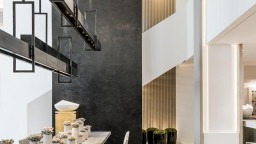 Profile
With over 40 years' experience at the forefront of the design industry, Kelly Hoppen is one of the most celebrated and sought after interior designers in the world. It was her relentless passion for design at sixteen years old that kick-started her iconic career. Kelly's globally renowned and ever-evolving style is defined by a subtle fusion of East meets West; clean lines and neutral tones, intuitively balanced with an opulent warmth.
Kelly's portfolio boasts a diverse selection of projects spanning the last four decades. Kelly's team have put their stamp on the homes, yachts, hotels and jets of private clients all over the world, including the highly sought after and exclusive addresses in China on Shenzhen Bay to the most impressive cruise ship to date with Celebrity Cruises Edge Class; redefining sea travel.
Kelly is honoured to be the recipient of copious design awards and in 2009 was made an MBE for her services to interior design.