You are here:
AirSea Packing Group Limited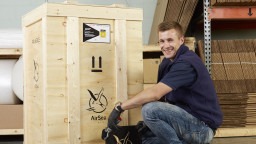 Profile
The Interior Design community has trusted AirSea Packing as the go-to specialists for the professional handling of all designer furniture, high-value artworks, antiques, and unique items since 1966.
We offer only the highest standards of handling, packing, and transport to uphold the reputation of your brand. Our advantage is that we control the entire logistic process alleviating any obstacles for our clients.
AirSea's vast network connects you to the world's design districts with weekly sea freight and domestic connections across two continents, Europe to the USA. We have the experience and knowledge to handle all your white-glove logistics, locally and internationally.
Locations in:  
London  |  Paris  |  New York  |  Miami  |  Dallas  |  Chicago  |   Atlanta  |  Phoenix  |  Los Angeles  |  Washington, D.C.