You are here:
Alguacil & Perkoff Ltd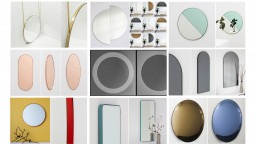 Contact
Serge Perkoff
Tel:

07880557423

Web:
Profile
WE LOVE MIRRORS / WE MAKE MIRRORS  
Alguacil & Perkoff (AP) design and manufacture in London, UK, their own collections of modern and high quality hand-crafted wall hanging mirrors. 
Each mirror is fully customisable: size, mirror tint, frame style / finish / colour, and backing material. They also create and/or fabricate bespoke mirrors on demand.
AP mirrors are shipped worldwide for residential, hospitality and commercial projects in single pieces or larger quantities.
Alguacil & Perkoff was created by founding directors Jose Luis Alguacil Rodriguez and Serge Perkoff with the aim to help create distinctive, beautiful and harmonious interiors through the design and careful selection of original and exquisite collections of mirrors and other interior design elements.
In addition to their own collections and that of selective talented designers, they create or assist in the creation of quality decorative and antiqued mirror glass and specialist deco-glass for feature walls and bespoke doors, and exquisite brass and bronze elements and accessories.