You are here:
Registered Interior Designer®
Alison Henry
Alison Henry Design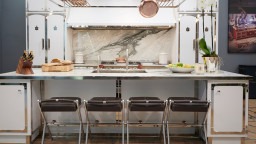 Profile
Alison Henry is an interior architect and furniture designer known for interiors that cater to the needs of the modern family while invoking a sense of grandeur and timelessness. Whether it's a home, a hotel or a luxury yacht, Alison creates entirely livable spaces that speak to the architecture they inhabit and are made to stand the test of time.
Born in New Zealand, Alison spent much of her childhood in Asia, eventually returning home for her secondary education and university degree. She has since spent much of her lifetime travelling between Europe, Asia and New Zealand, and US giving her work a truly worldly perspective.
Alison first made a name for herself working for Richmond International taking on major hotel projects working on the team undertaking the refurbishment of the Dorchester Hotel in London and the Peninsula Hotel in Hong Kong, and establishing the company's first office there.
She eventually founded her namesake design studio Alison Henry Design in Hong Kong in 1992 and continued to work on the Peninsula Hotel an to take on high calibre hospitality & residential developments & design projects such as Michael Kors' Celine retail stores in Hong Kong, and the redesign of the Mandarin Oriental Hotel, as well as private yachts and her own brand of furnishings and accessories sold in Europe and in Asia. Over the years she has become known for creating interiors that are not just luxurious and aspirational but comfortable and inviting to one and all.
Alison has since settled her practice in her design & consultancy studio in Belgravia, London. Here, she focuses on residential clients both in the UK and Internationally. Whether it's a short consultancy on how best to optimise the perfect space, or a full period home refurbishment that begins with knocking down walls and ends in appointing bespoke furnishings, Alison's years of experience make the process simple and streamlined.
Not only that, but in her time travelling the world, she's amassed an impressively curated contact list of suppliers and craftsmen whom she often calls on for custom pieces. If she can't find it, she will design and create it, and this includes her own line of scents and home accessories.
The hallmarks of all Alison Henry's designs are her dramatic playfulness with scale, a deep respect for the original architecture, attention to fine detail, a reverence for historical and cultural influences, and an understanding of the daily life practicalities that influence the making of a true home.
Her latest project is a full renovation of her own unique Georgian villa in London, which she shares with her four daughters.