You are here:
Registered Interior Designer®
Antonia Stewart
Antonia Stewart Limited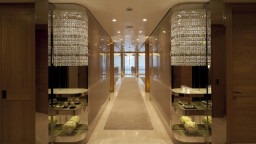 Profile
Antonia Stewart Ltd is a London based interior design company specialising in high quality residential projects in the UK and overseas. Since 2005 it has quickly established a reputation as a dynamic company that uses its creative flair to produce individual and elegant interiors whilst remaining sympathetic to the architecture of each building and its surroundings. We like to collaborate closely with clients developing an open, flexible relationship that we feel is critical to the successful realisation of their ambitions. Rather than working in a particular style, each project is tailored to the needs and lifestyles of each client and as a result, we have built up a diverse portfolio in both traditional and contemporary styles. Recently completed projects range from the refurbishment of an apartment at One Hyde Park, Knightsbridge to a Georgian family home in the Cotswolds; from a Regency London townhouse to an ultra modern new-build in Moscow. Whatever the size and scale of the project, We are able to recommend and co-ordinate the appropriate architects, contractors, craftsmen and specialists to cover all aspects of the work to be done. Whilst we can adapt to work as part of a larger team if necessary, we generally take an active, leading role on each project preferring to be a single point of contact for all partites which enables us to ensure that the detailing and execution of finishes is of the highest standard throughout the contract. Throughout the design process our priority is to exceed our client's expectations and to ensure that they enjoy the journey as much as we do.