You are here:
BCA Antique Materials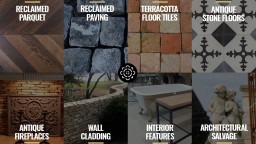 Profile
Long considered France's best stockholder of antique reclaimed materials & architectural salvage for authentic & creative projects across France, Europe and Worldwide, BCA are now France's biggest. Stocks include antique reclaimed French limestone, terra cotta & wood flooring, beams and other timbers in oak and pine, exterior paving and setts, roof tiles, stone for walling, fireplaces, statues, garden and water features. Both of BCA's bases in North West France (Normandy and Britanny-Loire Region) feature extensive interior and exterior showroom areas and stockyards, with smart office and meeting rooms where individual client projects can be discussed.
BCA are NOT in the "wellies-in-muddy-field" category of architectural salvage. Established in the mid-1990s, BCA MATERIAUX ANCIENS (Antique Materials) developed from its French demolition industry origins to become the foremost French antique materials and architectural salvage business, often a "behind-the-scenes" supplier to higher profile international businesses.
BCA have a long and ongoing association with the Anglo-French interior architect - designer David ACKERS, co-author of the influential best-selling book "How to Renovate a House in France", member of the BIID and of France's Union Nationale des Architecte d'Interieur - Designers (UNAID). His previous background as a specialist in the use of appropriate building materials helps, with numerous international projects undertaken since his graduation in the 80's. David is often the first contact that BCA's Anglophone clients will have by email or phone, and every effort is made to assist international architect's, designers and private clients to specify appropriate materials for their projects, not always straightforward.
Access is permitted to photo galleries of stock images and French historic floors and paving for reference on condition they are not used on other websites. BCA MATERIAUX's President Bruno COTTIER, and David ACKERS realized the potential of an effective stock website early on, France's first, with the advice and support of Thornton KAY at SALVO. For nearly twenty years now, BCA has been a member of Great Britain's SALVO Code, the internet-based organization helping maintain correct reclaimed materials trade ethics and an ecologically correct "green" supply chain.