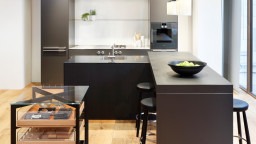 Profile
Bulthaup is renowned worldwide for creating architectural living spaces that go beyond the kitchen area. Established in Southern Germany in 1949 and still an independent family run business, from the start, bulthaup has been synonymous with innovation, uncompromising quality and a passion for painstaking detail.
bulthaup's award winning products represent milestones in kitchen design history and as such the brand is recognised as the industry's innovator. Each kitchen is designed to suit the individual client and is produced using the highest quality of materials and components in the factory which combines the best of machine technology with hand finishing by skilled craftsmen.
With four product systems, designers have plenty of choice to offer their clients.
b3 is a fitted system which allows the kitchen cabinets to be wall hung as well as floor standing, to give a lighter feel where the kitchen appears to float. Available in a wide range of materials and cabinet configurations, b3 is the perfect choice for designers looking for flexible solutions to offer their clients. With the distinctive wall panel system and slim proportions of its door fronts, side panels & worktops, b3 allows a seamless transition from kitchen to living space. b1 is also a fitted system offering end to end simplicity in white lacquer with simple geometric forms to appeal to the ardent minimalist.
b2 is a freestanding system of kitchen workbenches and storage cabinets which can be combined with b3 or used alone to create an individual, functional 'unfitted' solution. Designed by Austrian Design team Eoos, b2 offers a perfect alternative to the fitted kitchen.
b Solitaire, bulthaup's newest range consists of tables, benches & freestanding storage elements which can be used throughout the living area. With a matt black aluminium frame, solid oak & glass components are used to create an elegant but minimal range of transitional pieces for the contemporary home. The kitchen is the centre of the home and the table often the centre of the kitchen living pace so with b Solitaire, bulthaup pay homage to this fact & enable designers to create the perfect environment to enjoy this important space.
bulthaup's London flagship retail showroom opened in Wigmore street in 1988 and the company has a committed team designing and installing kitchens and living spaces throughout London, the UK and the rest of the world. The company is proud that the average term of service of its team is over ten years - all highly trained in house and with a passion for the brand. Working predominantly for private individuals on their high end residential projects, bulthaup's designers also regularly work with property developers on small to medium scale developments.
For more information or to make an appoint with one of our designers please contact us at info@bulthaup.co.uk, call 0207 495 3663 or pay a virtual visit to our showroom: https://mayfair.bulthaup.com/en/showroom