You are here:
Registered Interior Designer®
Charles Leon
Leon Black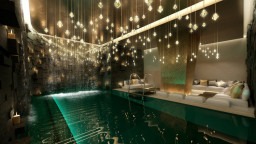 Profile
Charles trained as a theatre set designer and began his professional career working for the National Theatre and the English National Opera, this led naturally into designing for film.
In 1989, Charles was invited to join the UK's foremost international hotel design company where he remained for five years.
In 1994, Charles established his own design practice, CLA. Working mostly with entrepreneurs and hotel developers.  In 2010 he was joined by Nicholas Black and in 2014 they formed the design partnership Leon Black.
Charles also lectures internationally on interface between design, neuroscience, economics, politics, philosophy, sociology, innovation, emotion and the workings of the designer's mind. His talks provide a new, powerful and persuasive way of understanding why we think the way we do.
Charles is Past President of the BIID (British Institute of Interior Design), sit on the All Party Parliamentary Design and Innovation Committee and is guest lecturer at various design schools including Middlesex University, KLC, Inchbald and the Interior Design School.