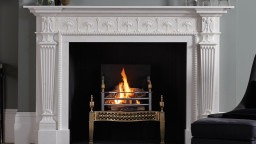 Profile
Chesneys was established in 1983 and has since become the leading supplier of period fireplaces in the United Kingdom. The company has extensive showrooms in both North and South London where hundreds of fireplaces are displayed. The entire Chesneys range of products is now available through a nationwide network of carefully selected independent retailers.
Originally dealing exclusively in antique fireplaces, Chesneys still maintains a stock of several hundred original pieces. The company has also developed a unique range of reproduction fireplaces of the highest quality. These products are widely recognised for their authenticity and quality by the country's leading conservation bodies. Chesneys have also developed a unique and innovative range of contemporary designs in collaboration with leading designers such as Jasper Conran, Kelly Hoppen, BIDA & Jane Churchill, BIDA.
Whether traditional of modern, every Chesneys fireplace shares the same integrity of design. Period fireplaces are exact copies of authentic originals. Modern fireplaces have been designed by talented contemporary designers to take into account simpler tastes.
At the heart of every fireplace is the fire itself. Chesneys supplies grates and fire dogs to suit fireplaces of every period. These can either be fitted with gas log or coal effect fires or used with a real fire.
Chesneys aim is to provide a totally professional and comprehensive service to the customer. From advising on the correct choice of fireplace to arranging a safe and efficient installation, the company is committed to achieving the highest possible standards.
In addition to the production of fireplaces, Chesneys is now able to offer a completely bespoke service for architectural marble and stonework. From neo-classical marble urns to monumental pedimented doorframes to inlaid conservatory tables, Chesneys are happy to tender quotations to any specification.