You are here:
Registered Interior Designer®
Christina Fallah
Christina Fallah Designs Limited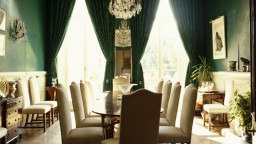 Profile
Design is an interpretation there is no wrong or right, as an intuitive person, I thrive on the ability to understand my clients without them saying a word. Ever since I was a child I have had a keen eye for looking beyond the surface and try to appreciate the context and story of what is presented. Whether it a person, building or project, I use the knowledge gained through exposure, experience and expression to construe and reflect the client brief and pride myself on anticipating but more importantly achieving client need- their project means as to them as it does to me, it's this personal approach.It is this ethos that has developed my design portfolio to include places like the Middle East, Asia, America, and nearer shores in Europe. Some specific projects include:  HM Treasury - Claridges Hotel - Renishaw Hall - The Shelbourne Hotel, Dublin - Au Bar, New York - Penthouse, Manhattan, New York - Private Villa, Amanpuri, Phuket- Private House, Chester Square, London - Private House, Knightsbridge, London - Private Villa, Cap Ferrat, France -Selected Private Yachts - 35 metres up to 72 metres. References are always available on request.