You are here:
Registered Interior Designer®
Daniel Hopwood
Daniel Hopwood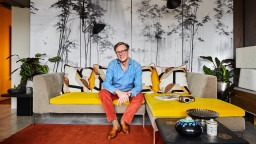 Profile
Daniel Hopwood established his own design studio over 27 years ago. The studio specialises in residential and commercial design, primarily in London and occasionally abroad. His work is frequently featured in the British press.
Daniel has a degree in Architecture and is an alumni of the Prince of Wales Institute of Architecture. He is a registered interior designer with the British Institute of Interior Design (BIID), where he was president for two years and advocated to improve professionalism in the design world.
He is a liveryman of The Furniture Makers' Company and chairs the Bespoke Guild Mark committee. As a visiting tutor to design schools, he also encourages and mentors young designers in the industry.
He has worked on several series with the BBC and Channel 4 which have been televised worldwide.