You are here:
Registered Interior Designer®
David Hales
David Hales Design Studio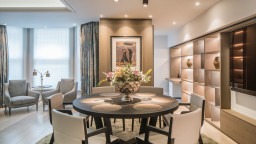 Profile
David Hales is an award winning designer and former Judge with both the British Construction Industry Awards and The BIDA at Decorex. With over 30 years experience of interior architecture and design, space planning, refurbishment and new build schemes across the UK and internationally, from Corporate and Leisure projects to the Investment and Residential markets. David Hales Interior Design are renowned for their highly professional friendly service interpreting the clients requirements and producing creative and elegant interior solutions. Past projects have included clubhouse refurbishments for Foxhills Country Club, Berkshire Golf Club, Wisley Golf Club, Ferndown Golf Club, Richmond Golf Club Leander Club at Henley-on-Thames, MCC at the Lords Cricket Ground and the Royal Automobile Club at Woodcote Park Epsom. We pride ourselves in creating elegant, comfortable homes that are perfectly suited to each of our client's individual needs, every detail is thoughtfully considered. To our busy private clients we offer a 'Turn-key' option, carefully selecting towels, linen, crockery, cutlery and accessories to suit our client's home, organised ready for arrival. This has proven to be a particularly useful service for our international clients. Our team continue to work on a wide variety of prestigeous luxury properties both in prime central London locations, across the UK and internationally. Whether we are taking your ideas from initial conception through to the finished product or simply remodelling a specific area, we pride ourselves in providing a unique tailor made service.