You are here:
Deanswood Interiors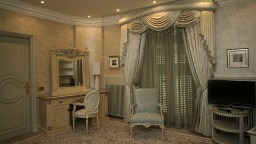 Contact
David Porter
Tel:

01634 814444
Profile
Deanswood Interiors - working hand-in-hand with Designers. For over 35 years we are proud to have been associated with Interior Designers, bringing to fruition their designs and requirements in the field of soft furnishing and blinds. Our in-house team of managers, curtain makers, blind makers and fitters have built up a wealth of expertise which many designers have found invaluable in ensuring their ideas are correctly interpreted and implemented to achieve ultimate client satisfaction.
Curtain Making Sophisticated designs perfectly delivered We take great pride in what we produce and deliver. Our team of expert curtain-makers are exceptional in their abilities and deliver a hand-finished product of the highest quality - which means that our clients enjoy a bespoke service that interprets their designs and helps make them come alive! Our industrial size workrooms with high eaves means we can make-up and accommodate the largest of curtain widths and lengths and hang them for pre-dressing and checking before fitting and final dressing on-site. We do not leave the site until you and your client are satisfied. Blinds Measuring up to quality Deanswood manufacture and supply superior quality blinds and guarantees a first-class on-site measuring service to ensure an accurate fit.
We have a wealth of experience regarding solar shading and blackout and can advise you of the best solution, we have probably encountered every difficult window and design problem and importantly, we have always found the answer! Intelligent Living Where design and technology meet. The ever increasing use of intelligent technology in the home is now having a significant impact on interior designers. Deanswood is leading the field in bringing this to curtains and blinds. Deanswood can advise you on the best types of electric curtain tracks or electric blinds together with the control equipment used to operate them particularly when used as a part of an A/V system.