You are here:
Gaze Burvill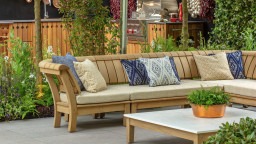 Profile
From its Hampshire base, Gaze Burvill design and make the finest furniture and kitchens for garden and terrace with an honest commitment to design integrity, comfort and craftsmanship. 
Gaze Burvill utilise state-of-the-art technology alongside the timeless skills of master craftsmen to create a variety of collections for every outdoor space, whether traditional or contemporary, with a capability to create custom or bespoke designs. With over 25 years' specialist experience, Gaze Burvill have developed a unique expertise in working with designers to deliver beautiful and thought through solutions for their clients' outdoor requirements.
Gaze Burvill are proud to manufacture every piece in Britain with extremely high environmental and ethical standards, we only use oak from certified and sustainable sources.
01420 588444