You are here:
Hamilton Litestat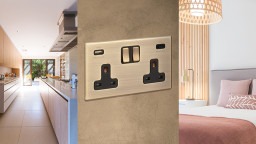 Profile
A British manufacturer: Hamilton Litestat produces high quality decorative switch plates & sockets, as well as smart lighting control and wireless audio solutions designed to meet the demanding needs of both residential and hotel interior projects.  - Hamilton can deliver a coordinated solution to match any client brief!
Showrooms: Click to arrange a visit - Bristol, London or Barcelona.
Everything on a plate - 'designer' collections: 19 unique plate collections, available in metal, plastic, wood and even glass finishes; numerous data & media options including the 'now-essential' USB-A&C chargers, wide rocker switches, LED Dimmers, European style (EuroFix), grid fix and standard box fit solutions.  Hamilton can provide non-UK inserts for high-end hotel work, particularly special bespoke items to meet the demands of the discerning international traveller. 
Tailor-made designs to order: Unique items such as special plate finishes/colours or non-standard plate functions for customised interiors can be supplied using Hamilton's 'Bespoke' design service. Larger plate sizes incorporating specified multiple functions can be designed and produced to order.
Colour matching: The new 'Paintable' service offers Interior Designers and Hoteliers a colour-match made in interior heaven. Plates can be supplied pre-painted to match - or even contrast - any wall colour or design theme, or to replicate the finer tones used in soft furnishings. 
Making light work - setting the mood: Hamilton's smart lighting control system meets the demanding needs of today's kbb and hospitality sectors. Its DMX control option allows an RGBWW colour-wash to be used as accent lighting to add drama to a space. The ability to integrate lighting control technologies sympathetically and seamlessly within residential, boutique and heritage projects makes Hamilton a natural choice. 
 Market Sectors: Hotels (International Brands & Boutique), Heritage Properties, and Residential (Medium to High-End).