You are here:
Jacaranda Carpets & Rugs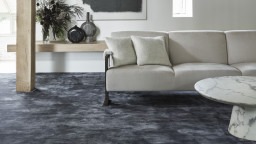 Profile
Jacaranda's reputation is built on innovative design in hand-woven tactile textures in a trademark colour palette ranging from timeless neutrals, to bold, eye-catching tones. Their ethos encompasses sustainable fibres, respect for the environment, and everyone who crafts their carpets and rugs.
Priding themselves on the use of sustainable fibres wherever possible to create carpets and rugs, predominantly handwoven with renewable wool and botanic TENCEL™. Wool is naturally stain and fire resistant, provides sound and warmth insulation making it ideal for both residential and contract locations. TENCEL™ is a beautifully soft and silk-like botanic fibre, its closed loop production process has won the European Award for the Environment. TENCEL™ botanic fibre easily absorbs colour, so can be matched to any pantone, paint or pom.
Quick turnaround on all samples, order at www.jacarandacarpets.com
Jacaranda has also pledged to be net zero by 2040.