You are here:
Registered Interior Designer®
Juliette Byrne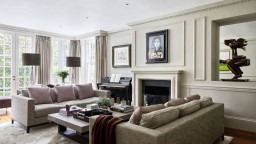 Profile
Juliette's Chelsea based architectural interior design consultancy has established a reputation for creating elegant and sophisticated interiors which blend the classic with the contemporary. Juliette graduated from The Chelsea School of Art and then trained at Conran. Juliette has been successfully nominated as one of the Top 100 Leading Designers in the UK by House and Garden from 2006 - 2018.
Her residential Chelsea Townhouse project won the Best Single Unit at the International Property Awards in 2017. Juliette's Richmond family home project was also featured on the front of Homes and Gardens in the April 2018 issue. 
She is a member of the British Institute of Interior Design (BIID) and a RIBA affiliate member. Whether coordinating a building site, managing an office of designers, liaising with leading architects and surveyors or managing clients property portfolios, Juliette's efficiency and attention to detail has been a driving force in her 30 year career as an architectural interior designer. Her philosophy that nothing is too much trouble coupled with an ability to find opportunities within space and existing designs where others might see flaws helps bring clients back time and again. Expect serene interiors, often executed with a muted palette, specially designed bespoke furniture, and a deft blend of old and new.