You are here:
Registered Interior Designer®
Kelly Hoppen
Kelly Hoppen Interiors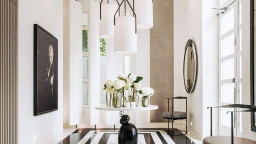 Profile
Kelly Hoppen MBE is an award-winning interior designer whose name is synonymous with an aesthetic of simple elegance that is both relaxing and deeply luxurious. Her ever-evolving style is underpinned by a subtly coordinated fusion of East meets West; clean lines and neutral tones, blended with charming warmth and sumptuous opulence.
She is honoured to be the recipient of copious design awards including receiving an MBE in 2009 for services to interior design. In December 2013 she was awarded the Natwest Everywoman Ambassador award for inspiring more young women to excel. She puts her stamp on the homes, yachts and jets of private clients, as well as select commercial projects the world over, including hotels, restaurants, offices and aircrafts. With 38 years experience at the forefront of the industry, publishers and businesses continually seek Kelly' s unparalleled expertise, allowing her to indulge her entrepreneurial instincts. As she is passionate about making her design ethos accessible to the masses, Kelly launched her eighth book Design Masterclass, in November 2013. Kelly is an investor on BBC Two' s hit entrepreneur show, The Dragon' s Den and fronted the Channel 5 Design Series, Superior Interiors, in 2011.