You are here:
Registered Interior Designer®
Louise Holt
Louise Holt Design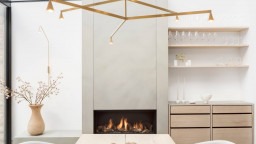 Profile
Inspiring interiors, expertly curated best describes Louise Holt Design's contemporary style; with an ever-increasing roster of high profile clients and prestigious architects seeking out their particular blend of aspirational and liveable spaces.
Previously a successful international financier, founder Louise Holt graduated from London's prestigious KLC School of Interior Design before setting up award-winning Cloud Studios. In 2016 she launched eponymous design studio - Louise Holt Design - with offices in London and Oxfordshire.
The dynamic design practice is known for gently pushing clients in new directions, working closely with them through all stages of the design process, from initial concept ideas and space planning, through building works to furniture installation and completion. The right combination of creativity and practical guidance, as well as having their own team of master craftsmen on hand for bespoke work, ensures results are beautifully considered and executed whilst harmonising with the architecture of the building. 
 Projects include country manor houses and rectories, London town houses and apartments and private residences in France and Mallorca.
 "Louise Holt has been a fantastic partner for us during all phases of the work done in on our Notting Hill home. She has great ideas and knows how to execute them with the building teams and craftsmen. When it comes to interior design she has pushed us to new ideas and concepts all while respecting our constraints - whether taste or budget. But, maybe most importantly, she has been an absolute joy to work with - kind, funny and patient."  Private client, Notting Hill.