You are here:
Registered Interior Design Practice
Mary Leslie Interior Design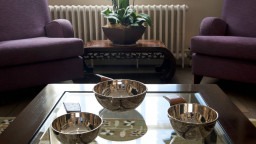 Profile
If there were such a thing as a Mary Leslie 'look' it would combine a creative use of colour, form and function, sensitive to the client' s needs, elegant and supremely comfortable . Mary writes: 'With design studios in London and Scotland we are ideally positioned to work the length and breadth of the country. In addition we frequently work overseas, and wherever our projects may be our team ensures the same creativity, attention to detail and standard of finish. We are here to create, not to dictate, and believe that flexibility is key to our success.' The services we offer include: Interior Design where we undertake the full range of interior architectural services, and specialise in bespoke joinery; Interior Decoration where we design, source and supply soft furnishings, wall coverings, furniture, upholstery, carpets, fixtures, and lighting; Sourcing of antiques, works of art and accessories; Pre-purchase feasibility studies; Space planning; Turnkey projects; Rentals.