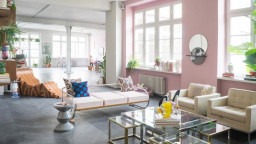 Profile
About Us
Welcome to Pamono, a one-of-a-kind marketplace and magazine specializing in distinctive design objects and the stories behind them. Driven by the belief that a life well lived means surrounding yourself with beauty and soul, we source vintage and contemporary furniture, lighting, accessories, and crafts from around the globe and seamlessly deliver them right to your door. Our original stories, collections, and guides ensure you know who's who and what's what in design culture past and present. Come back often; new designs and stories are added every day, so there's always something new to discover.
Our Market
If you're looking for something fresh and unique for your home or office, Pamono is your go-to resource for vintage and contemporary objects curated from an international array of high profile and underground galleries, shops, editors, artisans, and designers. We're passionate about pieces that tell a story—conversation pieces, if you will—because we believe the world's best design is always more than merely functional; it's created by visionary minds and skilled hands, and then hand-picked by you to create one-of-a-kind spaces. Nothing in our shop is run-of-the-mill or mass market, but there is definitely something for everyone.
Our Editorial
Our passion for extraordinary design has grown out of years of experience—and we aim to share this passion with you. We joyously bring you a rich diversity of stories about the people, places, and things that shape the design conversation with the goal of fostering community and connoisseurship. In addition to our many interviews with established and emerging design talents, you'll find explorations of design history, musings on design objects, profiles on design destinations, and reviews of the latest design happenings. Whether you're in the design cognoscenti or new to the field, our insightful, diverse content—updated daily—is sure to inspire.
Our Services
Our experienced concierge team works hard to make buying and shipping as easy and convenient as possible, and you can rest assured that every piece you buy from Pamono is in safe hands. By partnering with specialized and standard international shippers, we deliver right to your door with the utmost care and attention. We create condition reports for all high-value objects upon pick up and delivery, and every shipment is completely insured against damage. Our easy-to-use system allows for customized payment methods and 100% secure, worry-free transactions. For those on the hunt for just the right piece, we offer many contemporary designs that can be ordered in custom colors, materials, and sizes. Just inquire with us! We're always happy to help, and we can't wait to make great design happen for you