You are here:
Registered Interior Designer®
Rachel Laxer
RACHEL LAXER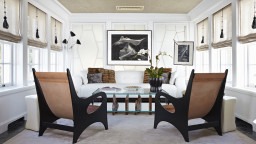 Profile
Rachel was born and raised in New York and has travelled the world extensively, including living in Tokyo and Europe for a number of years ; providing an international perspective for the interiors she creates. She currently divides her time between a New York home, and London - where she lives with her husband and two young daughters.
Prior to launching her career in London at Kelly Hoppen Interiors, she was a successful Emerging Markets trader and portfolio manager in the Hedge Fund industry for several large global funds. She has an undergraduate degree in Political Science and History from Washington University in St. Louis, as well as a Master' s in Business Administration in Finance from New York University.