You are here:
Rupert Bevan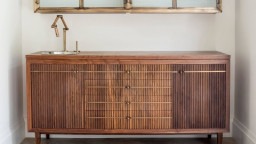 Profile
Designers, makers and finishers, Rupert Bevan and the team deliver a complete service from initial consultation to final fitting, priding ourselves on our capacity to translate any brief. We offer an incomparable opportunity for involvement in the creative process, perfectly translating ideas into beautiful and functional pieces, displaying an exceptional craftmanship and understated excellence in design.
Rupert Bevan has worked with many of the most influential, inspirational and recognised names in interior design. From the beginnings of his career as gilder and restorer he has transformed his skills and experience into the foundation of a bespoke interiors company with a rich understanding of countless different styles, materials and finishes.
Everything by Rupert Bevan is made and finished in Britain and we place great importance on local manufacture. Our London showroom, at 1 All Saints Road, Notting Hill, contains examples of our fine furniture, a vast sample library of materials and finishes and a finishing studio where we are constantly developing new and exclusive finishes. Our design studio and workshops are in picturesque Shropshire, an ideal location for Britain's craft traditions to continue to evolve and thrive.
At Rupert Bevan we employ traditional skills and techniques which have been handed down over the centuries to make exceptional items by some of the most talented and specialised craftspeople in the country. Reinterpretation and development of these traditional techniques allow us to create new finishes for the contemporary interior, whilst paying homage to the craft.