You are here:
TAILOR-MADE+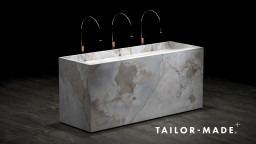 Profile
By seamlessly melding beauty, technology, and sustainability, Italian porcelain slabs have not only pushed the boundaries of design but also streamlined production processes, facilitating the creation of more dynamic spaces. However, their versatility extends beyond just wall and floor applications.
Their increased accessibility in the UK has ushered in a new era, marked by fresh opportunities and challenges. To fully harness the potential of these remarkable slabs, a comprehensive UK based cut-to-size and fabrication solution is essential. TAILOR‑MADE+ are that solution.
"Through our full service technical and design solution we hope to inspire designers to view each slab as a creative surface, capable of shaping the very essence of architectural spaces."
We provide support to architects, designers, and product manufacturers, encouraging them to explore novel and imaginative ways to incorporate these surfaces into their designs. This alliance can lead the way, demonstrating the material's potential and inspiring others to do the same. Our services extend to crafting luxurious standalone products like bathroom vanities, kitchen countertops, and furniture, offering designers assistance in bringing their ideas to fruition.
From precise laser templating and cutting to manufacturing, delivery, and installation, we take care of every aspect of the process, alleviating all concerns and hassles. Simply envision your design, select any colour from our Italian porcelain slab collection, and rest assured that TAILOR‑MADE+ will handle the rest.
For more information, please don't hesitate to get in touch. You can contact Paulina Machaj our Head of Design, via phone at 020 3848 5212, or email at design@tailormade.uk. You can also find inspiration on our website tailormade.uk.