You are here:
Tania Johnson Design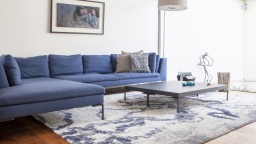 Profile
Tania Johnson specialises in custom, contemporary, hand knotted rugs. Using her signature photographs of light, shadows and reflections, Tania translates each image into intricately woven wool and silk rugs. Every rug in the collection is certified by GoodWeave ensuring no child labour is used in the production.
Each of Tania's rugs starts with a moment that inspires her as captured through her photography. She loves translating these fleeting moments in time and nature into enduring rugs hand made in the finest natural materials. With a woven textile background, Tania creates every weaving graph herself and specifies how each knot should be translated in to yarn and colour. This attention to detail can be felt in each of Tania's characteristically intricate designs. 
Tania Johnson offers a completely bespoke service and we work with both interior designers and private clients. Every rug is made to order and can be produced in any colour, size or shape. The fibre content can also be changed. While we love welcoming clients to our studio, we are also happy to offer site visits with samples and our extensive colour pom selection or simply loan out samples as required. We pride ourselves on a very personal service to achieve the perfect rug for each client. We also offer a handloom collection comprising of simple, gradated and geometric designs that are the perfect partner to our signature hand knotted collection.  
Every rug in the collection is produced by highly skilled weavers in Kathmandu. Each rug is certified by GoodWeave, ensuring no child labour is used during the production and aiming to improve working conditions for adults. Designed with integrity from beginning to end, each Tania Johnson rug conveys a unique connection between inspiration, design, tradition & skill.