You are here:
Registered Interior Designer®
Debra Kacher
dk Interiors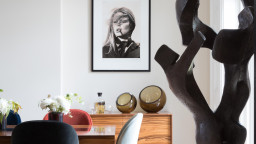 Profile
dk INTERIORS creates glamorous, elegant, stylish and timeless interiors with attention to detail from inception through to delivery. Understanding and interpreting a client' s dream is of utmost importance, the end result reflecting a client' s personality and lifestyle whilst remaining conscious of the company' s design ethos. Debra' s previous business and management experience in a blue chip fashion company and working for a highly recognized and respected interior design company for several years has enabled her to establish a professional design practice that organizes and efficiently runs complex and diverse projects with confidence and ease. Combining practicality seamlessly with style,
Debra has an innate creative flair which is paramount to inspiring her clients with confidence and most of all satisfaction. dk INTERIORS has the ability to carry out every aspect of a project from the inception of interior planning through to final installation, communicating personably and effectively with clients, architects, suppliers and all trades. Each project is unique and the bespoke service is tailored to meet the individual client' s brief.