You are here:
Registered Interior Designer®
Jane Kaula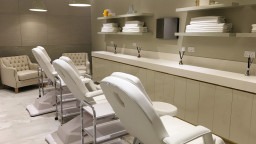 Profile
Jane is an interior designer specialising in commercial design and furniture design.  She co-founded a bespoke joinery company and a shopfitting company in 2004 feeling that commercial spaces were in need of an injection of theatre and creativity, particularly as new and exciting materials were revolutionising the design industry.
Jane and Octagon now work on behalf of a variety of clients including Airlines, the Beauty & Spa industry, the Catering and Leisure sector, Universities, Colleges and Hospitals, as well as residential clients.  "We take time to understand our clients and we know the importance of measuring the impact of our work against our clients' bottom line.  For this reason the majority of our clients work with us time and time again".
Jane and her team offer a highly creative and fully comprehensive interior design service from initial concept and sourcing, right through to final installation.  She works with clients who may simply want a design concept or some clients want a full service approach and she would then manage the project and/or take responsibiity for the installation.  For the latter she works closely with her team of reliable contractors, craftsmen and bespoke joiners to ensure that the project is designed and built on time, on budget and exactly to the client brief.
For many of her projects, she will design bespoke furniture or fittings which add a unique touch to the space  " We have no 'house style', instead we gear our designs solely around the client and their needs.  Jane was quoted in the Evening Standard as saying "I draw upon William Morris's ethos of 'having nothing in your house that you do not know to be useful or believe to be beautiful'.  And this works for both residential and commercial space.  I always advise against becoming a slave to fashion trends, instead make unique choices that together create the perfect environment for your business or your home.  Always try to ensure that your final design choices define who you are from the moment you walk through the door".
In a previous life Jane worked in retail marketing and product development.  She then went onto fashion show and event design, working for designers such as Michael Kors, Zandra Rhodes, Paco Rabanne, Ralph Lauren Perfumes etc.
She qualified with a diploma in Interior design from KLC School of Design, graduating with an Outstanding Achievement Award.  She continues to sit on the KLC Alumni Board.  She also enjoys mentoring new designers who are working towards full BIID Membership.
Past and current projects include an Airline Lounge at Heathrow, Gin Bar, artisan Coffee Shop, Birthing Suites for a London Hospital and various residential projects.