You are here:
Registered Interior Designer®
Marie-Noelle Swiderski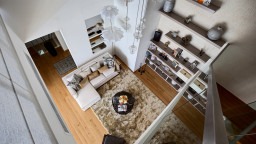 Profile
GALUCHAT offers a wide variety of design services, from the ground up to the last fork.  All scopes and budgets are considered: new builds off plan, refurbishments, renovations, extensions, decoration, helping make a room 'work', art and accessories selection, art and photography gallery installations, home staging (optimising a property with a fresh outlook to maximise its chances of selling).
A design professional since 1993, Marie-Noelle Swiderski started her international design career as an intern at Ecart in Paris, Andree Putman's design studio at the time. After diverse roles in Paris and Montreal, she moved to London, where she joined Blanchard Ltd as senior designer, managing several complex projects. In 2006, Marie-Noelle moved to Dubai and launched a holistic practice in architecture and interior design, sister company to Blanchard Ltd.  
Marie-Noelle and the Blanchard studio in Dubai won High Commendations at the 2010 CID Awards in the Interior Designer of the Year and Residential Interior of the Year categories.  In 2012, she was ranked 9th Most Influential Designer in the Middle East on the CID's Top 50 Power List. 
A Full Member of the British Institute of Interior Design (BIID), Marie-Noelle is now based in London again, at the head of GALUCHAT, the new identity for her international design practice.  A wide array of projects are in the books, of varying scopes and budgets, in North America, Europe and the Middle East.  Working seamlessly from London, Marie-Noelle attends sites when milestones call for her presence and otherwise works closely, locally to each project, with a tight-knit team of highly experienced, versatile, creative and technical minds from diverse backgrounds, whose daily attentive collaboration give each GALUCHAT project its unique harmony.