You are here:
Registered Interior Designer®
Sarah-Jane Allen
Deslyn Studio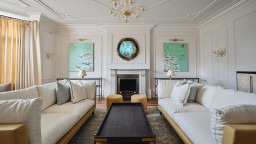 Profile
Deslyn Studio was brought to life when, founder and creative director Sarah-Jane, combined her business acumen from a previous career in business development with her passion of interiors and art to create a boutique multidiscipline design studio.
The Deslyn Studio ethos is to bring each project to life by injecting passion, working honestly, and using imagination to think outside the box; nurturing the client through their journey to help find their creative voice and bring emotion and experience to the forefront of the design solution, igniting the senses through colourful, tactile and layered designs. Each creative journey starts with a full circle exploration of all the unique characteristics and circumstances that have created the project. Whether it's history, locale, geography, environment, lifestyle or personal passions – these elements inform the concept cues that each design element stems from.
We deliver contemporary and timeless designs and experiences that work comfortably for all. Deslyn advocates the use of honest materials and therefore sources the best for quality, budget and timeless appeal, ensuring longevity for each project.
Deslyn has forged lasting and honest relationships with architects, project managers, quantity surveyors, artists, artisans, craftsmen, furniture makers, joiners and contractors to ensure that a holistic programme can be delivered for all projects.