You are here:
Registered Interior Designer®
Philippa Devas
Devas Designs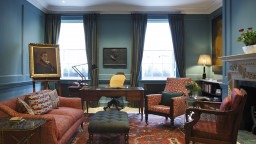 Profile
Philippa Devas, is an experienced interior designer whose distinctive style blends traditional with modern, old with new. She is a member of the British Institute of Interior Design (BIID).
Philippa began working for Percy Bass, then became an assistant to Chester Jones at Colefax & Fowler, before working at Chester's own company where she honed her natural talent and eye for space, proportion, light and texture. Devas Designs was established in 1998 and Philippa has since worked on many diverse projects from large country houses to modern London flats, carving out a successful niche for the company.
Philippa was placed in the House & Garden Directory of the 100 Leading Interior Designers 2006, 2009, 2012 and 2015. She was also nominated for an Amara Interior Blog Award in 2016 for her busy blog about interiors, art and design. Philippa creates interiors combining practicality with a chic, muted style and works closely with clients using existing architectural elements as a starting point. Philippa also sources furniture, paintings and works of art for clients either as a one-off or as part of a design project.