You are here:
SMC Smart Homes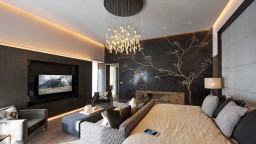 Profile
At SMC we believe that technology should be useful, simple and beautiful. 
We have been operating for the most demanding clients for nearly 30 years, bringing together audio, television and video, lighting, telephone, data networks, security, control systems and other bespoke technology into robust, fully-integrated and easy to use solutions.
We deliver systems designed with comfort, convenience and security in mind so that our clients' homes are ready for the future. We make sure everything is easy to operate and understand and can evolve over time. We work with architects, design consultants, property developers and builders, as well as homeowners. We pride ourselves on offering an end-to-end service from design through to aftercare support.
SMC is an ISO 9001 accredited company operating in the residential, hospitality and commercial sectors. We work for many high-profile clients around the world and pride ourselves on delivering projects on time and on budget. Our dedicated aftercare team also supports installations worldwide.
OUR EXPERIENCE
SMC has unrivalled knowledge and experience. We've been designing and installing integrated systems for demanding clients in a variety of environments for nearly 30 years. Our staff - from a range of architectural, commercial, design, programming and technical backgrounds - pride themselves in delivering tightly-detailed, good-value solutions that delight our customers.
OUR QUALIFICATIONS
We employ the finest engineers and designers in our industry and are committed to on-going training and development with industry training providers and our manufacturer partners. All our staff are screened and security vetted and everyone working on site is CSCS/ECS certified, so you can feel comfortable with SMC - whether we're working on a multi-million-pound commercial project or in your living room.
SETTING THE INDUSTRY STANDARD
SMC is a founding member of CEDIA, the trade association that represents the custom installation industry, and we've helped set the standards for best practice throughout the industry for over 25 years.
AWARD-WINNING, INNOVATIVE DESIGN
Our design department employs highly skilled designers fully proficient in the latest Computer-Aided Design techniques. We produce positional, schematic and builder's work drawings in 2D, and 3D, where required. We'll go the extra mile to provide concise, beautifully presented design documentation to help you make the right decisions quickly and efficiently. SMC has consistently won some of the industry's leading awards including CEDIA World-Wide Dealer of the Year, as well as various awards from Bowers & Wilkins, Crestron, Lutron and many others.