You are here:
Registered Interior Design Practice
Mia Karlsson Interior Design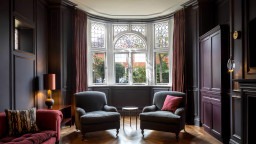 Profile
Mia Karlsson Interior Design is a design consultancy in London's Highgate Village, providing visually stunning solutions and comprehensive design services to the residential as well as the commercial market. 
We provide a complete solution incorporating spatial planning, interior and exterior design, build, interior architectural reconfiguration, lighting design, furnishing, decoration and procurement.
Mia works with clients seeking design input on medium sized projects as well as major refurbishments and extensions, passing on design understanding and skills required to get results that are otherwise impossible. 
Mia's Swedish influence comes through in her simple, functional and natural solutions and is complemented by many years' experience in London to encompass traditional, elegant and modern approaches.
Mia is a first class degree BA (hons) Interior Design and Technology graduate and has worked as part of large and small design teams. A wide range of design commissions and operational expertise within a variety of workplaces has provided a valuable perspective that encompasses design excellence with practical solutions.