You are here:
Registered Interior Designer®
Aida Bratovic
STUDIOAida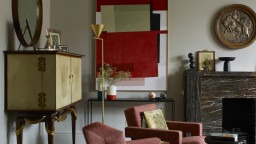 Profile
Aida Bratović DipArch(Lond) RIBA, BIID Founder Aida brings together 20 years' experience as an architect and interior designer to STUDIOAida.
Sarajevo born, she studied architecture at University of Sarajevo then at Bartlett School of Architecture UCL under the tutelage of Simon Alford and Paul Monaghan. Aida worked with Timothy Hatton Architects for many years to become a director with Timothy and their collaboration continues to this day.
Patient and passionate about helping clients to be more confident and bolder in their choices, Aida takes her clients wishes and applies her style and wit combined with her classical architectural training to bear with wonderful results. 'Our concept is to take something familiar and recreate it in a way that no one has seen before, through working with inspiring collaborators. Every design is tailored to the individual and we commission one off pieces from the very best furniture makers and artisans of our time. And the results are extraordinary conversation pieces.'
While an architect can build the bones of your home, the team at STUDIOAida will not only build your home but will bring it to life, dress it and style it, with refreshingly radical results. This team pushes interior design to a new level combining creativity with technical rigour and the results impress the most discerning of clients.
At STUDIOAida, the team creates extraordinary spaces for living in and enjoying. The studio is known for its commitment to beauty and quality both in design and service. They carefully consider each choice before its meticulous realization, with Aida always at the helm.
Few studios can claim a client list to match STUDIOAida. While some take great pride in having the photos of their homes published many prefer the confidentiality that STUDIOAida offers. 'We listen closely so that the project is a true reflection of the owners whether they are filmmakers, writers or royal families. Visitors will walk in and really feel the personality of your home. It will be uniquely you and to that end we commission the finest artist and artisan makers to create exceptional pieces for your home.'