You are here:
Registered Interior Designer®
Annabella Nassetti
A Living Concept Ltd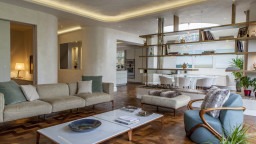 Profile
Annabella' s international background has an influence on the way she sees things. This starts by being able to understand and appreciate different cultures and their icons. These are parameters that lead to discover and experiment the morphology of elements of design. Detailed studies of shapes and ergonomics are combined with innovative finishes. These are thought to give an experience to those, who like her, like challenging goals. Annabella' s inspirations come from interpreting the clients desires adding her view and expertise to deliver the most exciting product. She has a particular vision for the ultimate home which is ingenious and innovative but does not interfere with core ideas of comfort, beauty and functionality. Annabella has an in house team of builders who carry out the majority of the works guaranteeing the highest quality results, as well as an efficient delivery of the project; and passionate professionals, from talented craftsmen to surveyours, plumbers and electricians.