You are here:
Registered Interior Designer®
Arabella Bassadone
Maison Arabella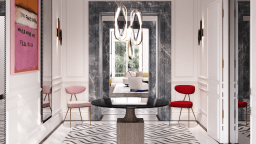 Profile
Interior designer Arabella Bassadone credits her roots and global perspective for setting her onto the path of leading a design studio. The classicism inherited from her Austrian mother, together with her Mediterranean background, have set the tone for her appreciation for mixing styles. She has experienced a variety of different cultures, having lived in Paris, Hong Kong and LA, to then kick-starting her career in London where she completed her Diploma in Interior Design at KLC following a degree in Investment & Finance in Real Estate from the University of Reading. 
Being the founder and creative director of an interior design studio was an inevitable choice having been surrounded by a family of entrepreneurs. Her grandfather was a property developer, her mother a designer, who previously owned a boutique of objets de curiosities and a successful entrepreneur father, who was awarded an OBE (Officer of the Most Excellent Order of the British Empire in the Queen's Birthday Honours) for his contribution to the automotive industry and economy. 
Prior to setting up Maison Arabella, Arabella dived into the creative industry honing her skills in the renowned practices of Katharine Pooley and Candy&Candy. Despite her young age, Arabella's experience in leading high-end projects in prime Central London and abroad set her apart from her contemporaries. 
There is a flexibility in Arabella's approach to design that makes her studio stand out. Uniting the classic with the modern, she pushes boundaries with the latest design technology, while still preserving ancient skills and time-honoured techniques, a testimony to Arabella's worldly background, human sensibility and expertise drive her determination to create and achieve.  
This is harnessed through the ever-evolving mentality of the studio to consistently be curious without prejudices and define innovative design that results in effortless and timeless spaces filled with personality and meaningful details.  
Arabella's design credentials extend further to the Objet series, launched in October 2019, establishing her recognition in product design. For her, furniture should be looked at for its daily use, and whether utilised or not, it should energise an environment in the same way a painting or sculpture does. Through these pieces, Arabella's original and eclectic style is given free reins.  Combining innovation with savoir-faire, form with function and vibrant character with effortless sophistication, the Objets were inspired by a quest to translate the identity of the studio into a physical form.