You are here:
Registered Interior Designer®
Christopher Vane Percy
CVP Designs Ltd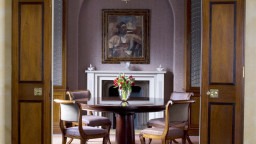 Profile
Christopher Vane Percy is the head of his design team at CVP Designs, established in 1971, and oversees every project. Renowned for his attention to detail, retaining the utmost regard for his clients' tastes, and observing total discretion, Christopher Vane Percy has worked on many prestigious commissions for a number of V.I.P. clients, both at home and abroad. Most of the initial contact is via personal recommendation and, over the years, the company has retained many loyal clients as their lifestyles evolve. One example of this is a recent assignment to design the interior of a large apartment in a new development in Kensington for clients who were moving from a late 18th century house in Westminster, itself refurbished by CVP in the late eighties.
The company is now based in its North Kensington office/design studio, part of a large Victorian dairy acquired by Christopher Vane Percy and converted into studio accommodation and working spaces. CVP Designs managed this exciting development. Christopher Vane Percy is a Past President of the International Interior Design Association (UK Chapter) and Past Chairman of the BIDA. Both CVP' s residential and commercial projects have been featured in Architectural Digest, House & Gardens, Homes & Gardens, Country Life, Period Living, The English Home and various other publications.