You are here:
End Grain Ltd.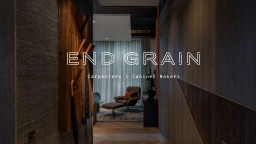 Contact
Bart Wilczynski
Tel:

0208 561 4909

Web:
Profile
We specialise in creation of bespoke, high end furniture; and consider ourselves the background dancers to the Interior Designer's performance. We help Designers in bringing their vision to life and bring complete knowledge of practical possibilities to the table. Having produced outstanding one-off pieces, we can offer solutions that you may not have thought of initially.
Our artisan joiners add a touch of luxury to every detail and enrich the design. Each joint, groove, panel and finish is carefully considered and intricately positioned to create an exclusive and unique piece.
We create bespoke kitchens and wardrobes that are just as charming and individual as the materials they're made from and the client they're intended for. 
From subtle coffee tables to extravagant and exceptional joinery creations, we're the finishing touch that brings it all together.
You've taken the time to conceptualise a truly unique piece, now let us bring it to life. 
We work with you to create exclusive pieces that bring a lifetime of character to your interior.