You are here:
Satin Design Ltd T/A FCI London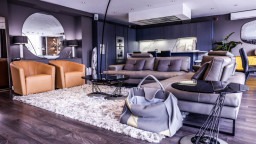 Profile
FCI London was established in 1985 and has grown from a 5000 sq ft showroom to one of the largest designer furniture and lifestyle houses in the UK.
We are an independently owned family business with deep roots in furniture design, manufacture and interiors. We have one of the largest contemporary furniture showrooms in the UK, displaying the most exclusive quality pieces from the world's most exclusive quality designers.
Over the last 30 years we've travelled all over Europe, sourcing the very best and innovative furniture making workshops and factories around. Before the internet and even before mobile communication, Mr. & Mrs. Nagree, the founders of FCI London, were gallivanting through dusty back roads in Udine, Manzano and umpteen other little towns, meeting artisans and designers.
Over many years they painstakingly pieced together a collection of furniture that today forms the backbone of the range on offer at FCI London. Many of the most important brands that you see in the UK market today first entered the UK with FCI London, then know as Furniture Craft International.