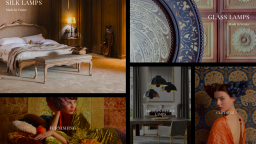 Profile
Ours is a story of curiosity and creative genius that began in 1871 in Spain, specifically in Granada. The Twentieth Century Leonardo Da Vinci was born in this Andalusian city, characterized by oriental atmospheres that date back to the Muslim rule. Mariano Fortuny, son of the homonymous artist and Cecilia de Madrazo y Garreta, inherited the passion for painting from his father, but it was in the applied arts that his manifold talents manifested.
After a childhood marked by the premature death of his father and spent between Paris, Biarritz and Madrid, he settled permanently in Venice, at Palazzo Martinengo, together with his mother and his sister Luisa. Between 1898 and 1906 he bought Palazzo Pesaro degli Orfei in San Beneto. It was right on the top floor of the building, where he lived with Henriette Negrin, who met him in Paris in 1902 and was destined to become his muse and wife, that he started his adventure in the textile field. Henriette shared her husband's passions and aesthetic canons and conducted the first experiments with printing with wooden matrices in order to create the Knossos shawl. As indicated by an autograph side annotation written on the patent, Fortuny himself recognized her as the real designer of the Delphos gown, inspired by the Ionic chiton of the Auriga. Palazzo Orfei became their Atelier, the workshop where revolutionary creations, cornerstones of the history of design and fashion, were born and where friends and customers gathered. 
The pleated fabric, the folding dome, the silk lamps, a multi-color printing system, a device to vary the intensity of lighting sources — the first dimmer switch — and a new method for engraving photographic plates: the creativity of the two artists took on different forms over the years, but it was always the expression of a boundless curiosity that encouraged them to constantly search for new solutions in order to obtain new results.