You are here:
Registered Interior Designer®
Jessica Brook
Jessica Brook Design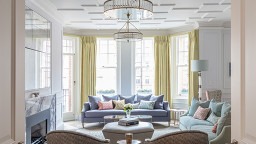 Profile
Jessica Brook Design Ltd is headed by award-winning interior designer Jessica Brook. Jessica is recognised by the industry for her creative approach and sophisticated aesthetic sensibility, creating elegant interiors of understated luxury, with attention to detail, emphasis on the use of natural materials, layering of texture and the combination of classic and contemporary styles.
Based in West London and working on Residential, Commercial, Hotel and Leisure projects the company's services encompass Architectural Interior Design, Interior Decoration, Furniture and Product Design. Projects can vary from concept schemes through to full scale interior architectural refurbishments and decoration. Developing your project brief they will produce concept mood and sample boards, visuals where required, working drawings and written specifications. Over the years they have built up a strong network of consultants, suppliers and craftspeople who work with them to develop their designs into bespoke products and finishes unique to their interior.
Jessica Brook Design increase the value of the investment of your project by working closely with Associate Architects, Surveyors, Contractors and other contacts within the build project, developing the overall design and working to maintain consistency and integrity throughout its execution. The results are beautifully conceived, detailed and executed interiors with atmosphere, a sense of growth and understated luxury.