You are here:
London Light Works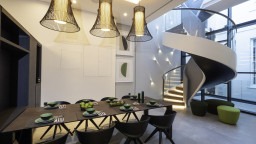 Profile
London Lightworks are a team of creative, award winning lighting designers with complete technical understanding of all aspects of lighting scheme design, product specification and lighting control.
We work with architects, interior designers and private clients as part of the professional design team applying our specialist lighting expertise to prime residential, hospitality and marine projects.
Importantly, we are an independent design house providing us complete creative freedom in our design process. This enables our designers to select the best products from a world of ever-changing options to produce stunning results that captivate and amaze time and time again.
Our unique combination of technical expertise, creative design skill and product knowledge has positioned us at the very forefront of our industry allowing us to deliver projects of exceptional quality worldwide. As a team, we push design boundaries and question decisions made to ensure we deliver the most intuitive, considered and effective schemes to surpass our client's expectations.
Our aim is to create a lighting solution that captures the vision behind your project and works in perfect harmony with the architecture and interior design, enhancing both.