You are here:
Registered Interior Designer®
Mark Gillette
Mark Gillette Interior Design Ltd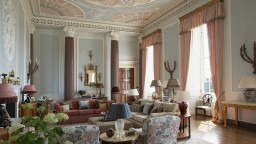 Profile
For 20 years or more, Mark Gillette has conducted a quiet revolution in interior design. Behind the closed doors of properties across Europe, from city apartments to stately homes, his practice has repeatedly achieved that most difficult balancing act for any interior, of giving a sense of having evolved over generations, yet also offering an eclectic, contemporary, and stylish reflection of the current owner' s personality. Mark Gillette's love of design goes back to when he first opened a copy of World of Interiors 30 years ago. Since then he has built up an encyclopedic knowledge of movements in art and design, and developed a creative intelligence which now draws on the assistance of scores of respected artisans, artists and dealers. Each project is developed in close collaboration with the client.Once the team, which includes an interior architect and a furniture designer, has understood the clients' needs and tastes, they put forward key components - expertly sourced artworks, bespoke craftsmanship - which anticipate intuitively where the clients' needs and tastes may develop in the future. As a result, the work does not seem to date: the pleasure,inspiration and value generated only deepens the longer the properties are lived in. Clients love the results: they love them even more five or ten years later. Mark Gillette Interior Design was established in 1994 and has clients across Europe, with projects in locations as diverse as St Moritz, Salzburg, London and Luxembourg. The practice is included in House & Garden's Top 100 Interior Designers, and is an active member of the British Institute of Interior Design (BIID).