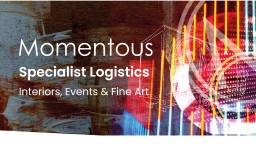 Profile
Services
1. FF&E Logistics for Interior Design
2. Event and Tour Logistics for the Performing Arts
3. Fine Art Logistics and Installations
About Momentous
The company, which originally began in the 1970s as an independent fine art shipping company, provides world class logistics management for its interior design, events and fine art clients. These three areas are particularly relevant today as fine art is increasingly intrinsic to hotel and interior design projects. Furthermore, where event logistics are now just as relevant to hotel launches and art exhibitions as they are to the thriving live events market. Momentous provides all these services through a single source.
From FF&E inventories to large works of art
The Momentous team of art technicians, crews, project managers and international logistics experts provide the technical expertise and specialist equipment required for any project with unique requirements. Momentous provides international transportation with customs management, digital condition reporting, bespoke case making and installation of pieces of art and sculpture in spaces with specialist lifting equipment. Consolidated storage with FF&E inventory management, distribution and installations for major interior design projects. Their events logistics team provide transport logistics and crews on-site for live events and storage of equipment, film sets and wardrobes. Momentous provides a versatile service covering multiple specialist and complimentary disciplines.
Move, store, install and manage
With decades of experience, the team includes project managers who are experts in their fields, experienced fine art technicians and logistics crews with decades of experience, ready to apply their knowledge to plan and execute your project just the way you need.
Compliance
When it comes to the important aspects such as safety, compliance, equality and sustainability, it is good to know that Momentous is part of the AGM Group which means everything complies to the company's ISO standards and governance.
Request a quotation
To request a quotation or to discuss your project logistics requirements please: visit www.momentous.global/get-a-quick-quote/ email contact@momentous.global call +44 (0) 20 3780 4545