You are here:
Registered Interior Designer®
Neli Mechti
Neli's Signature Interiors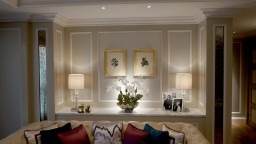 Profile
We are a multifaceted interior architecture & design company with a wealth of experience in ultra-high-end residential & commercial projects all around the world.
We would gladly cater for a variety of projects, from exuberant palaces, villas and country houses to urban apartments in the hustle and bustle of the city centre, using the trusting relationships built over the past 20 years.
Neli has learned the immeasurable value of creating elegant ambience in every space and how to translate clients' desires into realty. Our mission is to elevate each project to its full potential, by working alongside each client to enrich their lives and provide a comforting home.  
As part of our services, we will work with the client throughout the project's development from initial concept design to its execution. This includes purchasing and inspection to deliver the best value for the client, working with the rest of the project team to keep everything on schedule.
We pride ourselves on our continued, long-term relationships with our clients and hope to be able to expand upon this wonderful family.