You are here:
Registered Interior Designer®
Nikki Rees
Nikki Rees Interior Design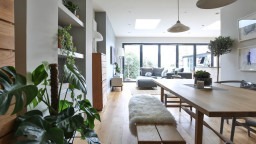 Profile
I am driven by a passion to create memorable interiors that inspire. Which is why I challenge every space to make it look beautiful, timeless and simply function better. Whether it is a home or a place of work I design with purpose in mind and your values at the heart to create spaces that make people happy to work in or can't wait to come home too.
Following the completion of my BA Hons degree, I pursued a career with leading global fashion houses designing new stores and visual merchandising campaigns. Yet my passion was to start my own business and in 2013 I created Nikki Rees Interior Design. With an experienced team, our goal is to bring the same professional and creative approach to all our clients in a personal and uncomplicated way that is sympathetic to your needs, budget and timescale and always offers something special.
"We love the challenges our clients bring us and are passionate about listening to their ideas, their vision and ensuring we can design the very best interior solutions, creating beautiful surroundings, inspiring and enhancing lifestyles to be proud of." - Nikki Rees